Our Services:
Machine Removals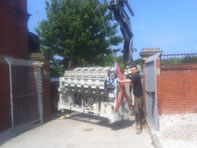 Machinery removals, transportation and relocation is a highly skilled sector of our business, requiring fully trained and experienced staff together with the latest vehicles, cranes and equipment. From collection to delivery, every stage of the machinery relocation process is appropriately insured for each operation, and cover can be tailored to suit each individual customer's needs.
The keyword with any machine move is 'expertise'. Unlike most general items that are craned and transported, machines do not necessarily have an obvious lifting points and so can prove to be a challenge. V P Machine removals drivers/crane operators are fully trained in machinery transport and have the experience and knowledge required safely and efficiently removing, transporting and installing all types of machinery.
Factory Relocations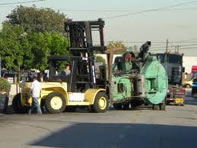 From single items to complete factory relocation, we have all the necessary tools; including forklift trucks and vehicles fitted with hiabs to move the more delicate items. Where required, V.P Machine removals will also provide site surveys by an Appointed Person with site specific Method Statements & Risk Assessments for total project management and complete peace of mind. No matter how big the job is. Contact us today for more information on any aspect of machine transport.
Specialist Transport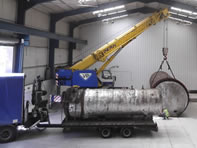 We are a North West Based Specialist Haulage company working throughout the UK with an enthusiastic, Second to none professional team who are looking forward to taking care of all your hiab Lorry Loader lifting and haulage requirements whether it's a machine, porta kabin or a boat we can take care of your Goods.
Electrical & Mechanical Services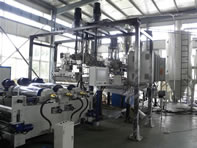 Welcome to V.P Machine removal a subsidiary of V.P Engineering Ltd, specialists in the installation, repair, servicing and maintenance of Industrial vacuum forming machines and associated components for commercial and industrial customers where appropriate throughout the North West and the UK.
We have experience in supporting the industrial sector, including Food Production, Packaging, Extrusion, Manufacturing, Machining and Processing Plants, providing solutions with the highest standard of customer service.
Containerization for Export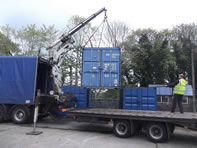 We have long term relationships with many dealers and customers overseas. The service we provide for them is the safe loading and shipping of containers with their machines safely secured. We have the facility and knowledge to ensure the machinery reaches its new home safely.
We can advise on the correct type of container, detail the loading and ensure the container is not held up unnecessarily at ports by providing the correct documentation before it is shipped.
Machine Storage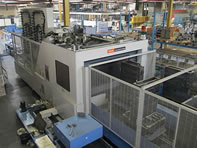 Are you looking to store your industrial machinery? Maybe you need to relocate your unit? If so, make sure you call us today. We are located in the North West and provide our services to customers across the nation. We offer a wide range of services, including storing and moving machinery, moving factories and industrial businesses. We also buy and sell redundant machinery, so please call us on 01260 291391.
VP Engineering Ltd
Radnor Park Trading Estate
Back Lane
Congleton
Cheshire, UK
CW12 4XJ
Tel: 01260 291391
Email: info@vpMachineRemoval.co.uk

Map:

© VP Engineering Ltd 2013

VAT Registration No. 7485 06 411
Company Registration No. 3694078
Website by TheWebSmiths
Based in Congleton, Cheshire, North West, UK, VP Machine Removals benefit from easy access to the UK's motorway networks &...
(click to show/hide more info)
Barnsley, Birmingham, Bury, Cardiff, Chester, Derby, Doncaster, Edinburgh, Glasgow, Leeds, Leicester, Liverpool, London, Manchester, Northampton, Nottingham, Oxford, Preston, Reading, Sheffield, Southampton, Stafford, Stockport, Stoke On Trent & Wolverhampton we operate all over the United Kingdom (including Bath, Bedfordshire, Berkshire, Bristol, Buckinghamshire, Cambridgeshire, Cheshire, Cleveland/Teesside, Cornwall, County Durham, Cumbria, Derbyshire, Devon, Dorset, Essex, Gloucestershire, Greater Manchester, Hampshire, Herefordshire, Hertfordshire, Kent, Lancashire, Leicestershire, Lincolnshire, London, Merseyside, Norfolk, Northamptonshire, Northumberland, Nottinghamshire, Oxfordshire, Rutland, Shropshire, Somerset, Staffordshire, Suffolk, Surrey, Sussex, Tyne & Wear, Warwickshire, West Midlands, Wiltshire, Wirral, Worcestershire, East Yorkshire, North Yorkshire, South Yorkshire, West Yorkshire, Belfast, County Antrim, County Armagh, County Down, County Fermanagh, County Londonderry, County Tyrone, Angus & Dundee, Argyll, Ayrshire & Arran, Borders, Dumfries & Galloway, Edinburgh & the Lothians, Fife, Glasgow, Grampian, Highlands, Isle of Islay, Isle of Mull, Isle of Skye, Lanarkshire, Perthshire, Stirlingshire, Western Isles, Mid Wales, North Wales, South Wales & West Wales) as well as Europe, Ireland and the Channel Islands.