Professional Factory Removal & Relocation
Professional Factory & Machine Removals
Professional Factory Removal & Transport
Electrical & Mechanical Services
Professional Factory Removal & Containerization
Professional Factory Removal & Storage
VP machine removal offer specialised industrial plant and machine transport and lifting, factory relocation, machinery installation, container loading and off loading and machine storage, electrical and mechanical engineers as well as specialist equipment such as Hiab equipped vehicles and forklifts, it has been successfully trading for the last 17 years providing professional machinery relocation Nationwide to a loyal customer base and on an "ad hoc" basis.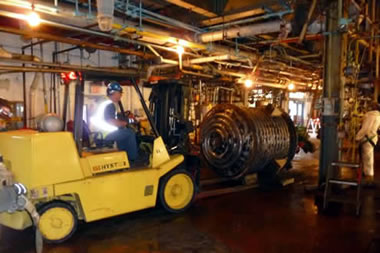 From single machines to factory relocations V.P Engineering Ltd can manage the project from start to finish and even provide storage if required.
As a company we have the flexibility to exceed our customers' requirements. Our team consists of mechanical and electrical engineers and qualified lifting plant personnel which enable us disassemble, transport and reassemble a wide range of machinery using our in house specialist equipment including large forklifts, Hiabs and machine moving equipment.
Some of our specialist services include dismantling and containerising for export. Commissioning and decommissioning factories site surveys and advice with the production of method statements and risk assessments.
VP Engineering Ltd
Radnor Park Trading Estate
Back Lane
Congleton
Cheshire
CW12 4XJ
Tel: 01260 291391
Email: info@vpMachineRemoval.co.uk

Map:

© VP Engineering Ltd 2013

VAT Registration No. 7485 06 411
Company Registration No. 3694078
Website by TheWebSmiths
Based in Congleton, Cheshire, North West, UK, VP Machine Removals benefit from easy access to the UK's motorway networks &...
(click to show/hide more info)
Barnsley, Birmingham, Bury, Cardiff, Chester, Derby, Doncaster, Edinburgh, Glasgow, Leeds, Leicester, Liverpool, London, Manchester, Northampton, Nottingham, Oxford, Preston, Reading, Sheffield, Southampton, Stafford, Stockport, Stoke On Trent & Wolverhampton we operate all over the United Kingdom (including Bath, Bedfordshire, Berkshire, Bristol, Buckinghamshire, Cambridgeshire, Cheshire, Cleveland/Teesside, Cornwall, County Durham, Cumbria, Derbyshire, Devon, Dorset, Essex, Gloucestershire, Greater Manchester, Hampshire, Herefordshire, Hertfordshire, Kent, Lancashire, Leicestershire, Lincolnshire, London, Merseyside, Norfolk, Northamptonshire, Northumberland, Nottinghamshire, Oxfordshire, Rutland, Shropshire, Somerset, Staffordshire, Suffolk, Surrey, Sussex, Tyne & Wear, Warwickshire, West Midlands, Wiltshire, Wirral, Worcestershire, East Yorkshire, North Yorkshire, South Yorkshire, West Yorkshire, Belfast, County Antrim, County Armagh, County Down, County Fermanagh, County Londonderry, County Tyrone, Angus & Dundee, Argyll, Ayrshire & Arran, Borders, Dumfries & Galloway, Edinburgh & the Lothians, Fife, Glasgow, Grampian, Highlands, Isle of Islay, Isle of Mull, Isle of Skye, Lanarkshire, Perthshire, Stirlingshire, Western Isles, Mid Wales, North Wales, South Wales & West Wales) as well as Europe, Ireland and the Channel Islands.